Mazda MX-5 Performance Exhausts
Mazda MX-5 Performance Exhausts
Our range of sports exhausts for the Mazda MX-5 covers both the 2005-2014 Mk3 NC model and the most recent Mazda MX-5 Mk4 ND roadster coupe and RF models.
To enhance the sound, aesthetics and performance of the Mk3 Mazda MX-5 we have the options of a road type or louder race type cat back sports exhaust system manufactured from the same 2.5"/63.5mm stainless steel pipework. For the MX-5 ND models we have created a unique mix of exhaust upgrades including centre exit and dual exit performance exhaust systems alongside a direct replacement OE style tailpipe option.
Known globally as the best-selling roadster, the MX-5 needs little introduction. With a nimble lightweight chassis, moderate power, and all the headroom in the world, Mazda's iconic recipe continues to put smiles on the faces of motorists from Aberdeen to Australia.
The ultimate roadster tag however does come with some expectation, MX-5 customers have come to expect thrills through every moment of ownership. Although fun in all the right places the MX-5 can seem muted to the eager enthusiast, thankfully Cobra Sport's development team have the answer.
By offering a range of solutions no matter what your requirements, there is an option for every driver, secondary de-cats for those wanting to extract maximum performance and tone from the engine and simple backbox solutions if style and amplified sound are your only desires.
All Cobra Sport performance exhausts are hand made in Sheffield and showcase mandrel bent certified grade 304 stainless steel pipework, formed by superior TIG welding techniques ensuring a quality finish that we guarantee for a lifetime (terms apply).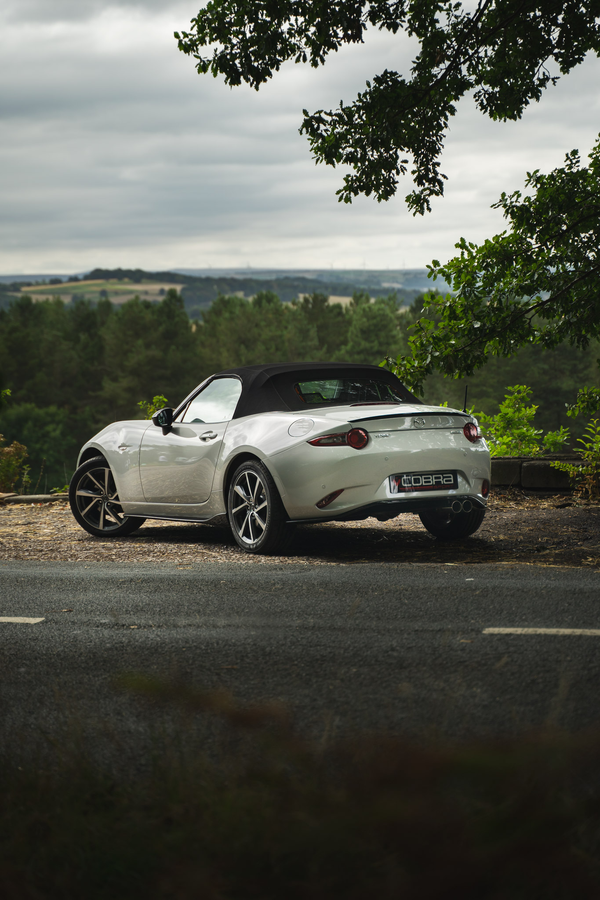 Subscribe now to get updates on our latest product releases