Toyota GR Yaris Performance Exhaust
Toyota GR Yaris Performance Exhaust
Our range of sports exhausts for the Toyota Yaris is continually growing thanks the to Cobra Sport research and development team. We manufacture a range of stainless steel systems for GR Yaris models. Our latest development includes a performance exhaust range for the Toyota GR Yaris.
Released as Toyota's homologation special, the GR Yaris takes its inspiration from the World Rally Championship race car. The GR Yaris was developed as a road legal sports car with its all new GR-FOUR all-wheel drive system ensuring the Yaris grips as well as it goes.
With tuners, track day enthusiasts and thrill seekers buying up the stock of Toyota's potent little three-cylinder, the mission for Cobra Sport's development team was straight forward, produce an exhaust to eliminate restrictions, maximise flow & tuning potential whilst providing an avenue for the 1.6 turbocharged powerplant to stretch its vocal chords.
By creating a modular system that allows for the addition of parts over time, the Cobra Sport performance exhaust system for the GR Yaris provides the perfect solution for all GR Yaris owners. If you want to extract the maximum from the GR, turbo back set ups are available with varying levels of silencing depending on your exact tastes. If more sound and style is all you require from your GR the GPF back system will be your go to upgrade.
All Cobra Sport performance exhausts are hand made in Sheffield and showcase mandrel bent certified grade 304 stainless steel pipework, formed by superior TIG welding techniques ensuring a quality finish that we guarantee for a lifetime (terms apply).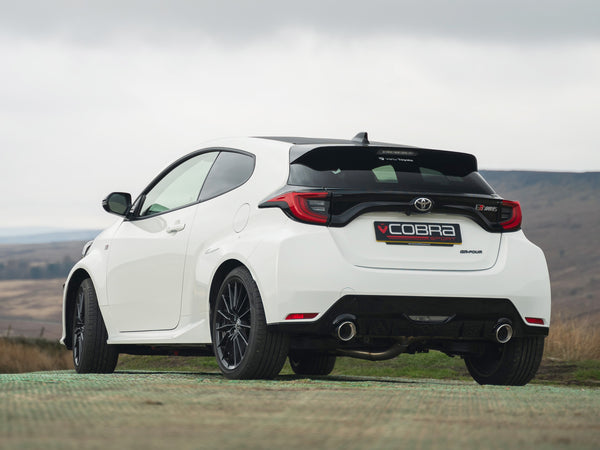 Subscribe now to get updates on our latest product releases