Nissan 370Z Performance Exhausts
Nissan 370Z Performance Exhausts
Our range of sports exhausts for the Nissan 370Z are designed to enhance the aesthetics, sound and driving experience of your 370Z incorporating weight reduction and smoother flow over the OEM exhaust.
The Cobra Sport cat back and de-cat sport exhausts will delight drivers with a superb all-round performance, our Nissan 370Z exhaust systems are designed and manufactured to uncompromising standards and excellence, we have matched performance with unrivalled sound and appearance.
With the introduction of the 370z in 2009 Nissan's objective was simple, there is no need to fix what isn't broken, the 350z was a huge success for Nissan popular within the street scene, drifters, and cruisers alike, leaving Nissan with the simple task of updating the car without losing any of its reputable character.
The replacement was seamless for Nissan with 350z owners keen to upgrade to the fresher looking 370z knowing the recipe had simply been updated could only result in a more positive driving experience.
Cobra Sport's development team were also eager to understand the changes introduced to the 370z and maintained a similar philosophy to Nissan following on from the international success of their 350z system. Rigorous testing and development delivered a product that ticked all the boxes for Cobra Sport, enable the glorious VQ engine to stretch its vocal chords, allow for further tuning should it be required and to offer a visual upgrade to enhance the rear of the Zed.
All Cobra Sport performance exhausts are hand made in Sheffield and showcase mandrel bent certified grade 304 stainless steel pipework, formed by superior TIG welding techniques ensuring a quality finish that we guarantee for a lifetime (terms apply).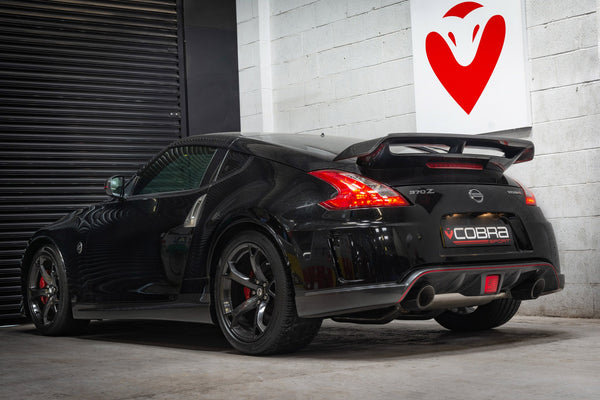 Subscribe now to get updates on our latest product releases