Harley-Davidson Sportster S Performance Exhausts
Harley-Davidson Sportster S Performance Exhausts
The Cobra Sport Development team were more than eager to improve the feel and looks of the Harley Davidson Sportster S. Leaving the factory as Harley's sportiest ride yet the S attracts a lot of attention for its stripped back, old school looks and its modern take on riding. With all the comforts of its Japanese counterparts the only thing lacking in the overall experience is Harley's signature rumble and sense of occasion, not that the 1252cc V-twin lacks grunt, the main issue is the exhaust system, visually it works, taking inspiration from yesteryears flat track racers however Euro 5 regulations have muted the Harley leaving it feeling a little more Jr Davidson than Mr Davidson.
Since their introduction to the marketplace in 1903 the Harley Davidson brand has been synonymous for its grumbly cruisers that turn heads in every direction, the Sportster S, although visually appealing doesn't quite have the attitude to be heard and felt as one approaches you from the rear.
Introducing the Cobra Sport Sportster S Performance Exhaust. Designed to put the attitude and emotion back into your Harley Davidson experience, the dual-can system adds both style and prowess that allow the V-twin to sing to its hearts content. The Cobra Sport system replaces the muffled end cans with silencers designed to emit a little more emotion and stainless steel non-catalysed pipework connects to the original exhaust system retaining the standard heat shield.
Cobra Sport performance motorcycle exhausts are designed with the rider in mind offering an unparalleled experience from the moment you fire the engine, delivering an increase in power, adding stunning visuals, reducing weight and most importantly emitting the Cobra Sport signature soundtrack.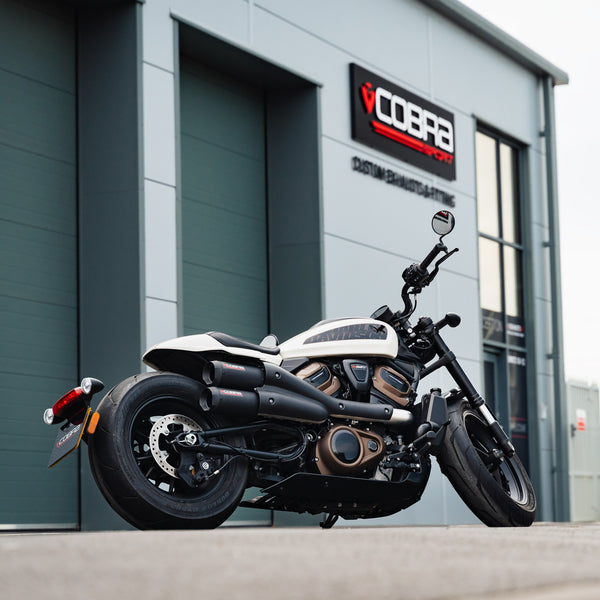 Subscribe now to get updates on our latest product releases